Kamloops Towing Services

Phil's Towing, based in Kamloops, BC, is a family-owned towing company. If you're looking for car towing in Canada, Phil is the experienced professional to contact!

Before Phil's Towing was started in Kamloops in 2010, Phil worked extensively with companies in the lower mainland of BC. That experience has given him the skills and customer service you need most when you need a tow.

Need help now? Contact us for Kamloops towing services.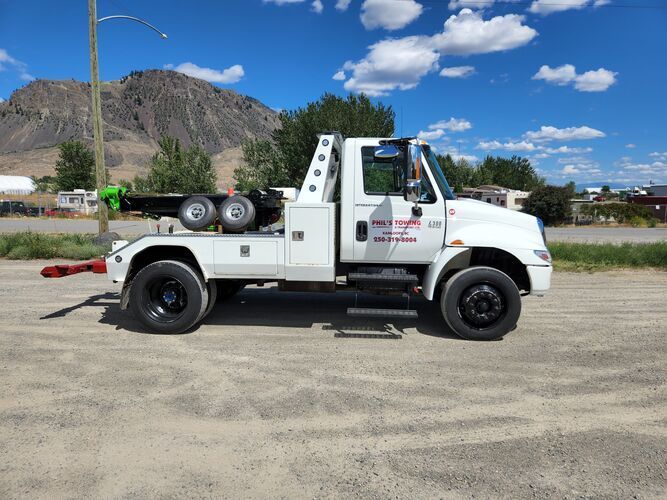 Medium Duty Tow Truck

Our medium duty tow truck allows us to tow vehicles from cars up to motorhomes. Car towing can include roadside emergency towing, picking up your car from your driveway, and more.

The tow truck's twin line boom enables us to recover vehicles from various places to get it back on the road.

Flat Deck Trailer Towing

Phil's Towing also offers a flat deck trailer for regular vehicle towing. The trailer is an impressive 30 feet long and 8 feet wide, with the capacity to carry up to 18,000lbs. The deck is designed to be high enough to clear the wheels, which is why it is wider than most flat-decks.

With this new addition to their fleet, Phil's Towing is fully equipped to handle any towing needs their customers may have. Whether it's a car, truck, or SUV, Phil's Towing can safely and securely transport it to its destination. Their commitment to providing excellent service and using top-of-the-line equipment ensures that customers can trust Phil's Towing for all their towing needs.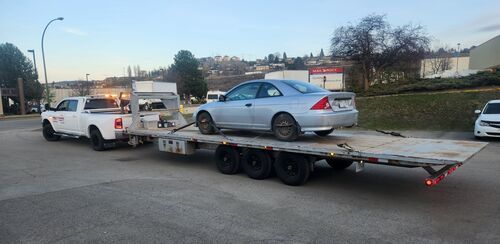 Check out our Google Reviews for Towing Services

Vehicle Towing Anywhere in Canada

Although our Kamloops towing company has its home base here, we can provide vehicle towing services to and from anywhere in Canada. Advance notice is useful when we need to leave BC, so contact us as early as possible!

Contact us today for auto towing services!

If you're looking for RV or Trailer Hauling services, head over to that page to learn more!

Also, please note that we're not a mobile mechanic, but we're able to tow you to one if needed!