Difference Between Towing Services, Roadside Assistance, and Mobile Mechanic Services
March 6th 2023
---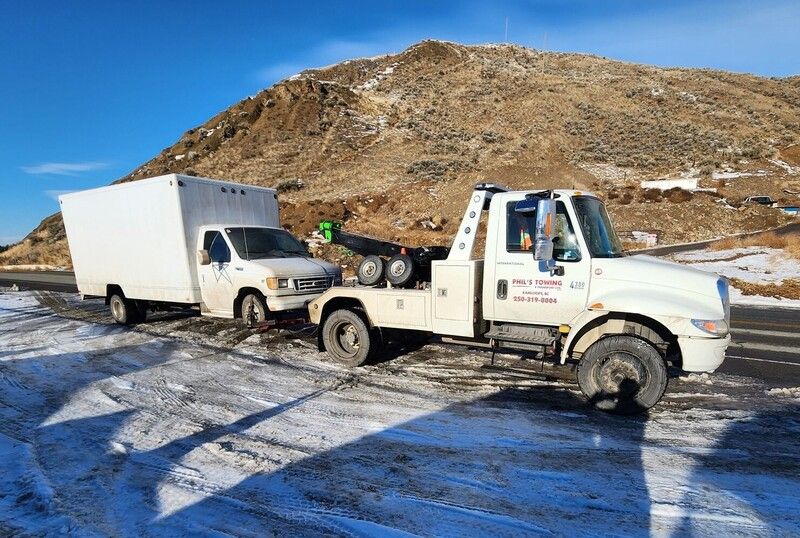 Phil's Towing and Transport is a small, family-owned business that has been operating out of Kamloops since 2010. If you need a tow, we offer services to the entire province, and will also meet you out-of-province with advanced notice. We are fully insured to protect your vehicle and property during transport and delivery.
As a towing company, a challenge we encounter from time to time is confusion between towing services and mobile mechanic services. To the untrained eye, tow trucks and mobile mechanic trucks have similar features, so it's understandable how the confusion might occur. There are some important differences between our services, however, and we want to take a look at them here!
What Is Included in Towing Services?
Towing Services are fairly self-explanatory. If you need a vehicle towed from you driveway, a roadside, or a ditch, we come and tow it! What's great about working with Phil's Towing is that in addition to our extensive experience in all aspects of towing and transport, we provide top-notch customer service.
Learn more details about our Towing Services
Despite our depth of knowledge, some minor industry overlap, and somewhat similar-looking vehicles, Phil's Towing is not a mobile mechanic. We will tow you to a mechanic if needed, but we don't have the tools or training to pop your hood and get your vehicle running again.
What are Mobile Mechanic Services?
A mobile mechanic is a qualified auto repair technician that is capable of bringing their tools and equipment to provide mechanical assistance at the roadside. They can carry out repairs, servicing, and more at any location.
Typically, mobile mechanics work within the realm of the transportation industry. If you wanted a mobile mechanic for your personal vehicle, you might be able to find one. However, most mobile mechanics are outfitted for bigger jobs.
If a mobile mechanic needs to do more work than they can do at the roadside, then they often call a tow truck company (like Phil's Towing) to move the vehicle to their shop. Some mobile mechanic trucks have towing capabilities, but it's often easier for them to call a towing company.
If you get stranded on the side of the road in or around Kamloops and need a tow, contact Phil's Towing and Transport
Does Phil's Towing Provide Roadside Assistance?
Yes. If all you need is a jump-start, a tire change, or a bit of fuel to get to the next gas station, we will help! Towing companies like Phil's Towing provide emergency roadside assistance like this. We will even unlock your vehicle for you if you've locked yourself out.
Wherever your vehicle is parked — whether it is in a parking lot, your driveway, the gas station, or the middle of nowhere — we'll be there to help. And if we can't get your car started or your tire changed, we can tow your vehicle to where it needs to be for more help.
At Phil's Towing, we offer towing services and roadside assistance throughout Kamloops and BC. We are not mobile mechanics, but we can tow you to one!
Check out our services page to learn more!